Powerful, Long-lasting, Super Light, Environmentally Friendly Lithium-ion Batteries for
Cars, Trucks, RV, Yachts and Sailboats, Auto Racing and Heavy Machinery


Our lithium-ion car batteries start at only 6.4 lbs!
Easily hold up this 10 pound car battery!
Whether you need a Small Engine Cranking Lithium-ion Battery or a Large Deep Cycle Lithium-ion Battery, we have the lithium-ion battery that you need. Many of our batteries are dual-purpose: designed for engine cranking and deep cycle applications. Our 12V-195A-30H is a great example of our most popular dual-purpose 12 Volt lithium-ion battery designed for engine cranking and deep cycle applications.
The 12V-195A-30H is perfect for RV's, trucks, yachts, sailboats and solar power charging systems.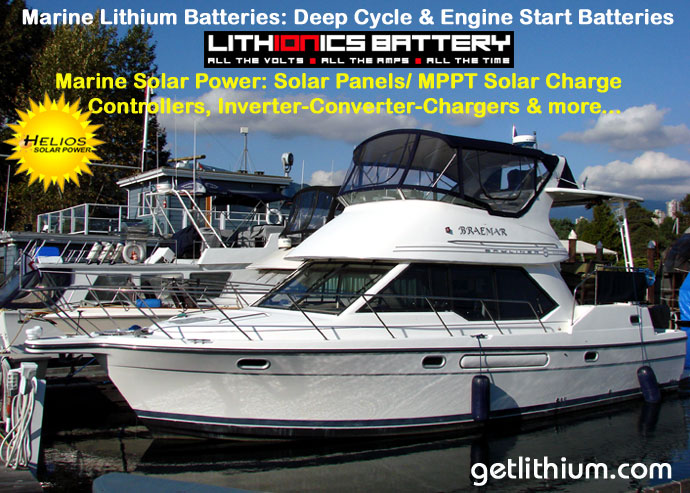 The lithium-ion batteries we sell are superior in every regard to lead acid batteries, are light weight, eco friendly and high performance. We offer durable, premium lithium-ion batteries for all applications including Domestic and Import Cars and Trucks, Marine (yachts, sailboats etc.), Auto Racing, RV's including Luxury Coaches/ Class A Motorhomes/ Class B Motorhomes/ Class C Motorhomes/ 5th Wheel RV Trailers, Semi Trucks and other Commercial Trucks, Heavy Duty Machinery and More.
Did you know that our lithium-ion batteries are 98% efficient round-trip for Solar Power charging?
Compare that with only 36% for lead acid batteries! RV owners of all types will really appreciate this advantage. Click here to visit our main Alternate Energy Solutions/ Solar Power page complete with Kyocera Solar Panels, Isofoton Solar Panels, Helios RV/ Marine Solar Panels, MPPT Solar Charge Controllers by Blue Sky Energy, OutBack Power & Morningstar, OutBack Power Inverter-Converter-Chargers, Diesel Generators for Hybrid-Electric Systems as well as our 98% solar efficient deep cycle Lithium-ion Batteries...
See the comparison between lead batteries and lithium-ion batteries down the page...
SUPER LIGHT LITHIUM-ION BATTERIES WITH CARBON FIBER FOR CAR & BOAT RACING:
Powerful, Lightweight Engine Start Lithium-ion Batteries with Real Carbon Fiber Battery Cases.
The GT960-12V-G48-CF-ND has 32 Lithium Amp Hours capacity (this is equal to 64 Amp Hours for a lead acid battery), has 2,200 Cold Cranking Amps and weighs only 15 lbs. Check out the lithium-ion racing battery main page on our main site at www.getlithium.com... or click here for details on the above 4 lithium-ion carbon fiber racing batteries.
Visit our ELECTRIC ASSIST BICYCLE WEBSITE:



Electric pedal assist bicycles by Giant e-Bikes ,
Origin 8 Fat Tire Electric Mountain Bikes and Sun Electric Cruiser Bicycles.
Hybrid e-Bikes, e-Beach Cruiser Bikes, e-Mountain Bikes, Electric Commuter/ Road/ City Bicycles, Step-thru Comfort Bikes, Electric Fat Tire Bikes and more...
Lithionics Battery is the Official Lithium-ion Battery for the NISSAN DELTAWING RACE TEAM



Our Lithium-ion Batteries Are Eco Friendly Batteries

Our Lithium-ion Batteries have many advantages for Consumers and Industry across all markets. The following are just a few of the applications that we supply lithium-ion batteries for:

Made in the USA by Lithionics Battery

CALL TO ORDER AT : 778-340-0060
or
Email Us at siteinfo@shaw.ca






Article featured in the March, 2013 Electric & Hybrid Marine Technology International magazine